The firm
Our law firm specializes in consultations with companies and private individuals, in the fields of civil and commercial law. In the fields covered by our law firm we are one of the top addresses in our region. Our firm was founded in 1991 by Dr. Christian Westerhausen. Before then Dr. Westerhausen worked as an attorney in an internationally orientied law firm in Duesseldorf, Germany.
A prominent jury elected our law firm to be TOP-LAW FIRM, published in one of the leading German Business Magazines called "Wirtschaftswoche" (Business-week, 13th edition, 20/3/2010, Dr. Westerhausen)
Practice areas
The areas in which the firm is active include the following:
Legal counselling of foreign enterprises, international investment and trade
We represent foreign clients in their business transactions in Germany or with German companies. We have the experience and expertise to serve all of our client's legal needs related to Germany (including EU law, international private law, entry visas and work permits). We also consult companies concerning their market entry into the Chinese market in cooperation with a Chinese law firm.
Business Formation and Acquisitions
Our focal areas are the formation of companies and branches, drafting of articles of incorporation and association, bylaws and partnership agreements; mergers and acquisitions; regulation of successors in private companies and corporations, corporation law in general, and the law of partnerships.
Commercial and Corporate Disputes
Claims for breach of contract and economic torts, and disputes arising out of purchase and sale agreements, negotiable instruments, commercial lending, securities litigation, and other corporate and partnership matters.
Employment Counselling and Litigation
Wrongful termination of employment, independent contractor issues, labour grievance arbitration, and public employment disputes.
Protection of industrial property
One of our main fields of practice is intellectual property law. We provide advice and consulting services to our clients and enforce their proprietary and exploitation rights.
For a very large number of companies trademark and exploitation rights have become a decisive competitive factor. We provide comprehensive legal consulting services in this field of industrial property law. Our focal areas are trademark law, copyright and publishing law, patent law, licensing law, clarification of major disputes, and IT law.
Philosophy
It is our aim to serve the interests of our clients through legally precise and strategically well-planned work, at its very best. We provide the most effective advice to our clients, which leads them coninuously to successful outcomes. Our consultations are designed to protect our clients against legal risks and potential disputes. If necessary, we guide our clients through out-of-court legal disputes as well as those in the courtroom.
Successful advice is based upon excellent studies, many years of practice, the willingness for hard mental work and, of course, participating in a well planned programme of ongoing eductaion. Our clients can take advantage of our online access to legal research databases (Jurion) and our broad client-oriented knowledge base. We regularly convey our amassed knowledge to out clients, colleagues and the interested public through open lectures and in-house seminars.
The fees charged by the firm's attorneys are reasonable and controlled by case budgeting and efficient staffing. The firm is also willing to consider alternative forms of remuneration arrangements, such as flat rates, and "caps" on the total amount of fees to be charged.
Dr. Christian Westerhausen, LL. M.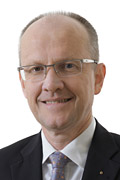 Born in Berlin, Germany. He studied in Bochum, Lausanne (Switzerland), Muenster and Goettingen. He became Master of Laws at the University of Georgia/USA in 1986. He was admitted to the bar in 1990. In 2016 he was appointed bar-certified specialist in International business law.
His professional activities:
Regional Chairman of the German-American Lawyers' Association based in Bonn-Bad Godesberg.
Member of the German-Chinese Lawyers' Association.
Member of the Germany Lawyers' Association.
From 2003 to 2007 member of the Commitee for Legal Protection of Industrial Property at the Federal Bar Association located in Berlin.
From 2006 to 2010 member of the Commitee of Specialized Lawyers for Intellectual Property at the Saxon Bar Association.
From 2007 to 2010 lecturer for copyright law at the Chemnitz University of Technology Saxony, Germany
Since 2016 bar-certified specialist in international business law